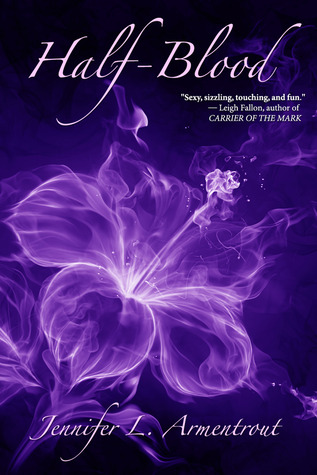 "The Hematoi descend from the unions of gods and mortals, and the children of two Hematoi pure bloods have godlike powers. Children of Hematoi and mortals–well, not so much. Half-bloods only have two options: become trained Sentinels who hunt and kill daimons or become servants in the homes of the pures. Seventeen-year-old Alexandria would rather risk her life fighting than waste it scrubbing toilets, but she may end up slumming it anyway. There are several rules that students at the Covenant must follow. Alex has problems with them all, but especially rule #1:Relationships between pures and halfs are forbidden. Unfortunately, she's crushing hard on the totally hot pure-blood Aiden. But falling for Aiden isn't her biggest problem–staying alive long enough to graduate the Covenant and become a Sentinel is. If she fails in her duty, she faces a future worse than death or slavery: being turned into a daimon, and being hunted by Aiden. And that would kind of suck."
Sadly, I DNF'd this one. It borrowed so much from two major series' I just couldn't keep reading. It was in the plot, the worldbuilding, even the characters.
It wasn't original at all, even the main character, Alex, seemed such a generic, cardboard cut-out, type of character. I just didn't find anything believable; there wasn't any depth to it.
I loved JLA's Obsidian (my review here), although I had issues with that one too, and I'm currently reading Cursed (review coming soon), which is also good so far. Both of those are quite original and I can connect with the characters and the world. I guess Half-Blood is a JLA book that just doesn't do it for me.
There was one part I really liked, that will stay with me. I had such a good image of it in my head. I don't want to spoil anything, but it's in the first chapter and it talks about purple flowers. It's just a brief image, but it was vivid for me.
Other than that, I'm sorry to say I don't have much else to say about Half-Blood.
Look out for my Cursed review later this week.
Ratings
Quality of Writing: 1 out of 5
Enjoyment Level: 1 out of 5
Emotional Depth: Can't rate as I didn't get far enough in
[Goodreads Rating: 1 out of 5 ]
*Plus kudos for a gorgeous cover
Have you read this one? What did you think? If not, is it on your TBR?