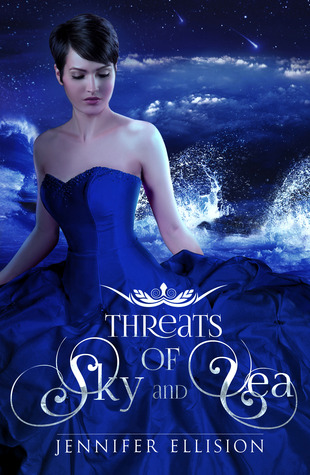 "Sixteen year-old Breena Perdit has spent her life as a barmaid, innocent to her father's past and happily free from the Elemental gifts that would condemn her to a life in the Egrian King's army. Until the day that three Elemental soldiers recognize her father as a traitor to the throne and Bree's father is thrown in jail—along with the secrets from his last mission as the King's assassin. Secrets that could help the King win a war. Secrets he refuses to share.
Desperate to escape before the King's capricious whims prove her and her father's downfall, Bree bargains with him: information for their lives. It's a good trade. And she has faith she'll get them both out of the King's grasp with time.
But that was before the discovery that she's the weapon the King's been waiting for in his war.
Now, time is running out. To save her father's life and understand her own, Bree must unravel the knot of her father's past before the King takes his life– and uses her to bring a nation to its knees."
Thanks to NetGalley and Createspace for the copy! 🙂
Firstly, I absolutely have to comment on the worldbuilding! It was amazing! I love love love the magic system, I love the world, the settings were awesome! It wasn't bogged down in description, but what was there gave you such a vivid sense of the surroundings the characters were in.
The characters were very unique. It's narrated by Breena, and her voice was refreshing and different. I've never read a protagonist like her. I wouldn't say she was my favourite character in the world, but that's just because she's very different to me. She is definitely one of the best written characters I have read though.
The other characters were all well done too. They were well-developed and so distinctive. There was no confusing of characters in this book!
I also want to say: WHO EVER DESIGNED THE COVER HAS ACTUALLY READ THE BOOK!! For once. Breena's haircut is right, the dress is right, the background is right… Brilliant!
Also, no insta-love!
I had one issue with the plot, but grew to love it in the end. I can't go into it without spoiling you though, so let's just say it did irritate me, but I still loved the book.
The writing was easy to sink into. The last line was epic (please don't read it before you've actually finished the book, now I've said that!). When you've travelled with these characters and explored their world with them, that line is fantastic. I promise.
It seems likely there's a sequel – and yes, I will be reading it the second I can get my grubby little mitts on it.
I recommend this if you like Shadow and Bone, magic based on the elements, political intrigue, fantasy worlds with a sort of Regency or Victorian feel, heroines and princesses that don't whine, and taverns!
Ratings
Quality of Writing: 4 out of 5
Enjoyment Level: 4 out of 5
Emotional Depth: 4 out of 5
[Goodreads Rating: 4 out of 5]
*Plus kudos for an accurate (and beautiful) cover, and the brilliant lack of insta-love 🙂