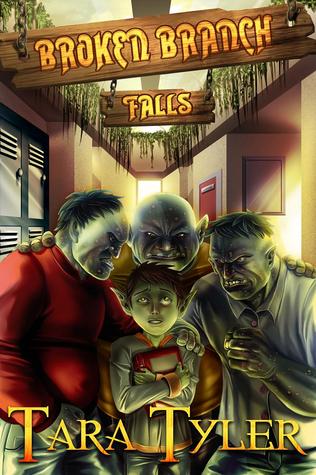 "Doing homework for bully ogres and getting laughed at as the butt of pixie pranks, Gabe is tired of his goblin life. When he and his friends step out of their nerdy stereotype and pull a prank of their own on the dragons at the first football game, it literally backfires, bringing a High Council vote to dismantle not only Gingko High, but the whole town, too!
The Book of Ages–hidden handbook of the High Council, filled with knowledge and power–may be Gabe's only hope. With the help of friends old and new, can Gabe complete his quest to find the Book in time to save Broken Branch Falls? Or will he remain an outcast forever?"
Thanks to Netgalley and Curiosity Quills Press for the copy! 🙂
Broken Branch Falls is a brilliant fantasy story containing many different magical races. It explores how they work together (or not), and takes a good look at stereotyping and embracing differences. That may seem like a lot to cram into a 235 page book, but it did work. The main characters are less than two years from University, but the story seems aimed at a much younger audience.
It's narrated by Gabe, a Goblin who is "different". The story follows Gabe and his friends on a quest to save their town.
Broken Branch Falls started off brilliantly. I downloaded the free sampler for my Kindle before I requested the title on Netgalley, and I enjoyed the first three chapters so much. I loved seeing this fantasy world with so many different races; all your favourites and then some.
As I got further in, the plot started to feel terribly cliche and it did lose me a bit. I stuck with it though, because I loved the world and the characters so much. There are some weak parts to the plot, but it is well worth reading. There were parts that felt too easy, and parts that were too sickly sweet.
As for the characters, the dragons were hilarious and I completely adored Piper (a harpy). Gabe worked well as a narrator and felt very believable. I loved his reaction to Vincent 🙂 I also loved the relationships in this book. They were very well done, especially Gabe's relationship with his mum and sister.
The ending disappointed me and the last chapter felt confusing. I hope there's a sequel, but I'd still be disappointed with the ending of this one.  I wanted more resolution.
I would recommend this book to lovers of the Edge Chronicles, although it has a much younger feel than the Edge Chronicles. I would also recommend this to read aloud to younger children. Broken Branch Falls is a lot of fun but also has a great message in it. (Although it isn't at all preachy).
I didn't like the illustrations at all, especially the cover art. (The ogres look too threatening to me.)
My Rating: 3 out of 5 stars – A great bedtime read