I thought I'd jump on this particular bandwagon and have my own TBR Jars! I'll be using one for classics and one for everything else. I'll then provide mini reviews of the book at the end of the month, or at the start of the next month.
I'm also aware I haven't shared a Library Trip with you in a while, so I'm going to update you on all my library doings today!
Also, I made graphics for all of my feature things 🙂
We'll start with the TBR Jars.
I have two. And they aren't jars. But never mind. On Goodreads, I have a TBR Pile shelf and a Classics TBR Pile shelf. I'm randomly clicking a Goodreads heading to organize my shelf (by author, title, publication date, date I added it, etc), so the books get mixed up a bit, then using a random number generator to select my book. If the book selects a sequel where I haven't read the first book/s yet, then I will read the first one instead, even if I don't own it. That said, I should explain, my TBR Pile shelves are made up of books I own and have yet to read. The only books from my Kindle I will include are classics. (I haven't added these to my TBR shelf yet, but I will get on that in time for next month's pick.)
So! Numbers I got for this month's picks were 10 and 13. 10 for the regular TBR and 13 for the classics. 10 gave me book four in a series I've not yet started, so I'm reading the first book instead (which is also on the list).  Meet the books!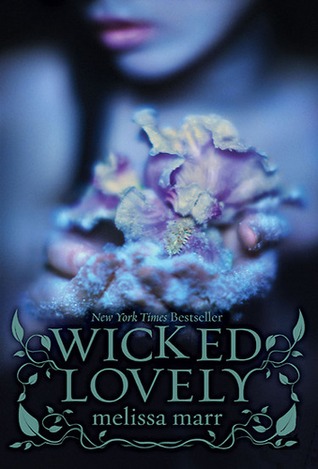 Wicked Lovely by Melissa Marr and The Old Curiosity Shop by Charles Dickens.
As for my Library Trips, I apologise for the lack of posts lately. I've only picked up two books from the library in all this time as I am trying to get on top of what I have out already. They were Divergent and We Were Liars, both of which I've now read. Both of which are brilliant reads.
So I have more books left that I plan on devouring in July before I can request more library books! I have Deep Blue Sea, which I'm currently reading, A Madness of Angels, Little Exiles, Echo, and The Ambassador's Mission.
Library Trip posts will be back once I'm back in the swing of checking books out. 🙂
I also want to read books I have for review; the rest of the Hunger Games trilogy; and a pick for my YA Readers' Little Black Book Project, Madly. The pick for July's Reading the Future is Pure by Julianna Baggott, which I'll be reviewing as well.  If you want to read more about my new features, click here. The Monthly Meet Melanie is already up and running, with post one here.
Happy reading!
What are you reading this month?