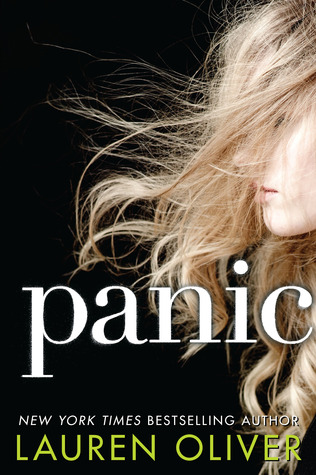 "Panic began as so many things do in Carp, a dead-end town of 12,000 people in the middle of nowhere: because it was summer, and there was nothing else to do.
Heather never thought she would compete in Panic, a legendary game played by graduating seniors, where the stakes are high and the payoff is even higher. She'd never thought of herself as fearless, the kind of person who would fight to stand out. But when she finds something, and someone, to fight for, she will discover that she is braver than she ever thought.
Dodge has never been afraid of Panic. His secret will fuel him, and get him all the way through the game, he's sure of it. But what he doesn't know is that he's not the only one with a secret. Everyone has something to play for.
For Heather and Dodge, the game will bring new alliances, unexpected revelations, and the possibility of first love for each of them—and the knowledge that sometimes the very things we fear are those we need the most."
Thanks go to Bookbridgr and Hodder and Stoughton for the  copy! 🙂
After hearing so much about this January 2014 release, I was thrilled to get my hands on it. I read it in one day, so it definitely kept me hooked, but I was still kind of disappointed.
There were a few inconsistencies I spotted that irritated me and the only characters I really liked were Heather and Lily. Nat was the worst, but I felt proud of Nat by the end. I didn't like the ending for one of the male characters. There are two main male characters, Dodge and Bishop. I didn't like either of them. I won't say anything else as I don't want to spoil it. I really loved Heather though. A lot. One thing this book is good at is character development (for the girls, at least).
I really didn't understand how the prize pot worked. I don't see how they would have raised that much money, the way the town and some of the kids' lives were described. The whole concept seemed weak and unbelievable, but if you overlook that, the book is still enjoyable.
I wasn't blown away like I'd expected and wanted to be, but I did enjoy it. It was a little confusing – the writing style kind of threw me around a bit. I felt like I had to scramble to grasp things, but then the next thing was coming up, and I had to run to keep up. I think this actually worked with the book though, it's just not something I enjoy, personally.
Spoiler Warning: The ending for Heather and Lily made no sense. It kind of wrote off the bulk of the book. Heather's actions in the book were all for a particular reason and I wanted to see that resolved. I don't understand why it wasn't; that was the whole reason she did what she did. End of Spoiler.
If you like small-town America settings, thrills and danger, plenty of action, mystery, and great character development, I would recommend this to you.
Ratings
Quality of Writing: 2 out of 5
Enjoyment Level: 3 out of 5
Emotional Depth: 4 out of 5
[Goodreads Rating: 3 out of 5]
*Plus kudos for a main character I adore