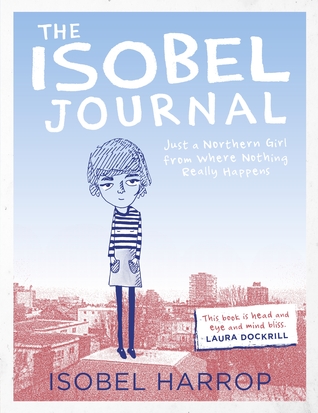 "THE ISOBEL JOURNAL is no ordinary snapshot of a contemporary teenage life. A charming and vivid narrative scrapbook of the eighteen-year-old author's sketches, mini-graphic novels, photographs and captions, it captures her wit, her observations and her creative talent as she takes us through the three central themes in her life: 'Love', 'Friends, Art and Otters' and 'Me'.

Resonant of Laura Dockrill's MISTAKES IN THE BACKGROUND and with the powerful naïve illustrative style of cult Japanese artist Yoshitomo Nara, this is a collector's gift for teenagers and all who have the teenage experience still in their hearts. Readers will emphasise with this witty and honest journal of a girl getting to grips with impending adulthood. A must-have for all hipster teenagers and anyone who appreciates the raw creativity of youth. Enchanting and poignant." Goodreads Description
NB: Thanks to NetGalley and Switch Press for the advance copy.
I requested a copy of this one because I love young adult books with "extra bits", like emails, drawings, ticket stubs etc that look as though they've been stuck in. I have to admit, I was expecting full text with a scrapbook feel, but The Isobel Journal is much more art than text.
However, the artwork is quirky and youthful, and there is a storyline behind it. I particularly loved the animal drawings. Some of the artwork was laid over real photography which had an awesome effect. The book also contained things that serve to give the effect that you're really reading someone's journal; things like ticket stubs and letters.
The last section in particular held a beautiful story. It was very raw and real. One image and its caption will stay with me for a very long time.
One complaint I had was the jump from the penultimate section into the last section. It was too sudden for me; like, suddenly this very different section was being thrown at me. I would have liked the whole book to be on a similar wavelength as the last section – that part was good.
If you like webcomics, you will love The Isobel Journal. I think this book has the potential to be a hit, but it wasn't for me, personally. I enjoyed it, but I wouldn't buy it. If available, I would borrow future/subsequent titles from the library. I know one person who would probably like it for a gift, but I feel it is over-priced.
The Isobel Journal is already out in the UK and is due for release in the USA on August 1st. The book is "One of four titles to launch in new YA imprint, Switch Press. Official launch at BEA 2014" (quote taken from NetGalley). So if this look's like your thing and you're going to BEA – make room in your schedule!
My Rating: 4 out of 5 Worth a read, although I would enjoy this more as a webcomic.